Kentucky CCDW Classes
August 6 @ 9:00 am

-

5:00 pm

$99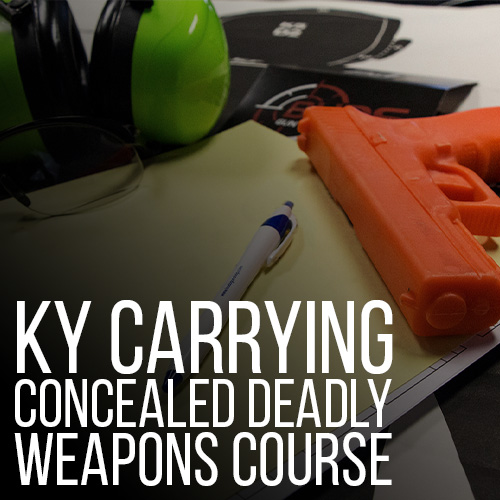 If you've been considering obtaining your Kentucky CCDW permit, now's the time! Classes are held in our conference room and our state-of-the-art live-fire ranges.
The cost is $99.  The material covered is serious, but the class is as entertaining, fast-paced, and enjoyable as possible.
You are strongly encouraged to pay online with your credit card to ensure your seat!
These days a lot of people are asking why would you bother with a CCDW license when Kentucky has instituted Constitutional Carry?
That's a fair question, but here's a few points to consider…
The purpose of a class with a state-licensed CCDW instructor is not (necessarily) to teach you how to shoot.  It teaches you the law regarding the possession of and employment of firearms in a self defense situation. This is critically-important information.
There are also considerations when traveling.  States which offer reciprocity with regard to a concealed carry permit from another state, are under no obligation to recognize other "constitutional carry" states in lieu of a permit.
The purchase of a firearm from a KY firearms dealer is generally simplified by the possession of a KY CCDW license.
Please note that the Kentucky concealed carry laws apply to

all deadly weapons, not just firearms,

and Kentucky has some unusual definitions of what is and isn't a deadly weapon. For example, a blackjack or set of brass knuckles would be considered a deadly weapon, but not a hunting knife per se.
We conduct the Kentucky State Concealed Carry Deadly Weapons Course in accordance with guidelines and regulations directed from the Kentucky State Police.
Click link below for Eligibility and detailed information:
http://kentuckystatepolice.org/ccdw/ccdw-home/qualifications/
We typically offer the course in one, six-hour session, usually Saturday or Sunday, however weeknight sessions may be offered, consisting of two, 3-hour sessions (you need both).
For the KY Concealed Carry Deadly Weapons Course, you will need:
Handgun — MUST BE UNLOADED and encased in a container, bag, or holster
Magazine (if applicable) — MUST BE UNLOADED 
At Least 50 Rounds of FACTORY AMMUNITION (Hand-loads or Reloads are not authorized)
Ammunition is available for purchase on site at Buds Gun Shop & Range
For questions email: [email protected]
Course Length: 7 hrs
Course Location: Buds Gun Shop and Range, 1105 Industry Rd, Lexington, KY 40505
Class Time: Days and hours availability are posted in the drop-down menus above.
Cost: $99.00
*You must sign up for the class online or in the retail store as each course date fills up quickly.
Click for Bud's Gun Shop KY Cancellation Policies